FIRST FATHER'S DAY GIFT IDEAS
Whatever you decide, giving a gift for a new dad or dad-to-be is a nice way of commemorating a special day. There'll only ever be one 'First' Father's Day, so it's nice to adorn the day with special memories – whatever you choose to do.
Picking the perfect present can be a bit daunting. Do you go for the old favourite (socks), something hand made (which takes time) or splash the cash on something big?
We've done the hard work for you and spoken to mums who've been there, done that. We asked 3 mums what did they give, big or small. Here's a range of ideas for father's day gifts for new dads.
Buy Debut Dads: The First Season of Fatherhood!
OK, if I was to big-up Dad F.C.'s book for new dads that'd be pretty shameful. I'm not going to do that. Instead, here are some mums' opinions on Debut Dads: The First Season of Fatherhood.
'I loved it! The manager's comments were very funny. In fact, the whole book was funny. That will help keep any dad interested as he soaks up info on the first 12 months of having a child.'
'At last! A useful football book!'
'Any football-keen expecting dad will pick this book up – just show them the cover and you'll have their attention. Dad is 'Manager of Dad FC' and is 'getting the stadium ready' during the 'pre-season', he is 'meeting the fans and press' after 'making the debut', he is dealing with '3am kick-offs' and keeping up a great 'relationship with the Head Coach' and so on… It's packed with witty football-baby analogies, filled with practical advice, it's concise and yet informative. All the important bits are in there, it's written from experience and backed up by professionals. It's perfect for dads-to-be who wouldn't necessarily pick up a baby book.'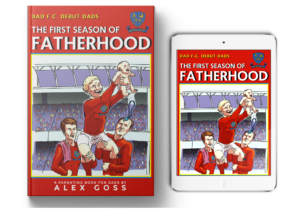 Homemade Father's Day Gift
Feeling creative? You could make something special yourself. Emma, of emmareed.net made this unique family picture made up of scrabble pieces. Emma went to eBay to get the wooden scrabble pieces, the frame and coloured card. I think you'll agree it makes for a lovely Father's Day present.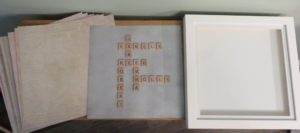 Create your own family scrabble picture.
Fail-safe Father's Day Gift
For the dad who likes to know where he stands, "get him a daddy hamper full of all his favourite things…" says Lianne of Anklebiters Adventures.
His favourite craft beer? A nice snack to go with it? Perhaps a magazine or book on his favourite subject? I personally love receiving a box of all the things I enjoy. Who wouldn't? OK, this might not be the most creative thing in the world, but nobody knows what the new dad likes better than mum, and remember, giving a beer isn't just giving a beer. It's an invitation for dad to have a drink whilst putting his feet up. In the first year of fatherhood, there aren't many things higher up the wish list than putting your feet up.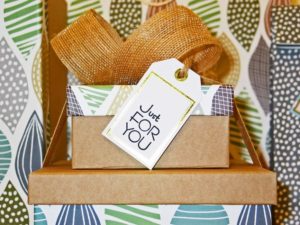 Dad FC tactic: even if you're just giving a regular beer and snacks, you can wrap each small gift individually for a nice touch.
For the SuperDad who wants to give back
The DRM Project donates all of it's profits to the Chailey Heritage Foundation (a UK centre for children with neurological motor impairment such as Cerebral Palsy). By giving him a SuperDad tee from The DRM Project, you'll be celebrating the first Father's Day and raising money for a good cause at the same time.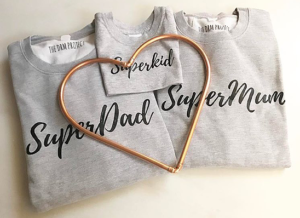 Get a SuperDad t-shirt from The DRM Project.
The critically acclaimed book for new dads is available on Amazon.
So…. if you're on the hunt for that very first father's day gift, I hope the above was useful.
Either way, do let us know what was the first Father's Day present you gave or received. What went down well? What didn't?!