You will want your baby's bedroom to become a theatre of dreams – calming, tranquil and conducive for drifting off into the land of nod (much like Manchester United's Theatre of Dreams then).
Getting the place ship shape for the new arrival is super important. … Here's how some dads do it!
The basics you need for preparing a baby's nursery room
1 cot or cot-bed
1 mattress for the cot or crib (firm, not soft and fits the cot perfectly with no gaps)
2-4 fitted sheets
2-3 light blankets
1 dresser
1 rocking chair (for feeding in the night and reading bedtime stories)
1 pair of black-out curtains (we also used a draft excluder to sit the curtains onto the window sill – this helps shut out daylight and any drafts – also effective if you have a heater just below the window)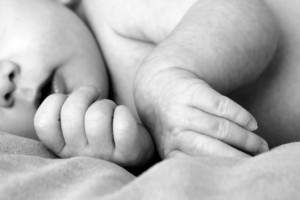 Preparing a perfect bedroom and bedtime is half the battle when it comes to getting babies off to sleep
Make the baby's room a theatre of dreams
A mobile, that can play relaxing nursery rhyme sounds
A soft light in case you need to turn the light on in the middle of the night
A ticking clock to give the baby a rhythm akin to his mother's beating heart before he was born
Soft colour tones
Black out blinds and / or curtains
If you don't have double glazed windows then now is a great time to get them. This keeps the temperature of the room more consistent and easier to keep warm. It also muffles out any sounds from outdoors.
A nice temperature – around 18 degrees is ideal, so just adjust the amount of bedding and clothing you use if the temperature is higher or lower.
100% cotton bed linen instead of anything polyester. Cotton is more breathable.

How to make your baby sleep
Your baby shouldn't be hungry, but also shouldn't have literally just eaten. You could try a smaller feed about half an hour before you put your baby down to bed. Nobody likes to go to bed on a full stomach and you wouldn't want build a direct association between feeding and sleeping, otherwise they may want a feed in the middle of the night, in order to be able to go back to sleep.
Put the little one to bed in a clean nappy. It's best not to put them down immediately after a bath as this could over stimulate them.
Keep your little one relaxed and in a soothing environment. Don't have loud noises or bright lights around them.
Don't play with your baby – you want them to make a distinction between day time and night time.