Smartphones have definitely put a lot of power in your pocket. We can do pretty much anything on our devices (whether you want to catch up on House of Cards or attend a video conference with 10 colleagues across the world). With all this great power comes great responsibility, and we've placed this responsibility into the hands of UK dads to decide which app is the best for dads and for making dads lives easier. So, here are the finalists and winner of the Best App for Making Dads' Lives Easier 2017.
Finalists
The online bookstore turned behemoth is one of our faves. This has proven to be a life saver on many occasions and it's so easy to order almost anything within seconds, and at very reasonable prices. From nappies to Nerf guns, Amazon is often the go-to place for our family essentials these days.
"Our oven once stopped working the day before we had family arrive for Christmas. I ordered a replacement heating element at 9am on Sunday morning and received it before 10am the same evening. Short of having my own concierge, there's literally no other service on earth that could have sorted that for me on a Sunday just before Christmas." Alex
Yes, Amazon has its foibles (they constantly try to manipulate the delivery method to get you to pay more than the FREE Super Saver) and it's tricky to get hold of their customer service line, but when we need Amazon, it almost always comes good for us, including their customer service.

Launched by Danes back in 2001, the UK's most popular takeaway delivery app is a huge hit with British dads. It's a funny one really – we could all order a takeaway or cook our own meals before JUST EAT came along, but the clever guys at JUST EAT have made it so easy to order your best food from the best restaurants, that 14.2 million of us now turn to the app for our tikka masala and tandoori takeaways.
Fitting everything into the evening was difficult enough before kids, but once you've got a whole other person's bedtime routine to manage (brush teeth, bath, changed, bedtime story, another bedtime story, another… you get how this goes), making dinner can be the last thing on your mind.
Winner: Best App For Making Dads' Lives Easier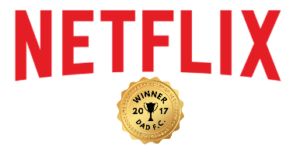 Netflix wins the award for best app for dads 2017! Us dads just love a bit of video streaming. When it comes to apps, dads have picked out Netflix as a service that makes Being Dad easier. Whether you want to put some programs on to entertain the kids whilst you're travelling, or you fancy settling on the sofa to watch House of Cards, the UK's most popular streaming device has made accessing your best content so easy. It's easy to set up a profile for the kids and there are tonnes of kids TV shows and films for the little ones to enjoy on your TV, tablet or mobile.
With its huge growth, Netflix is now one of the world's best producers of TV shows and film. And doesn't it just know what we like to watch too?! Narcos, Bloodline, Luke Cage, Stranger Things, Chef's Table and House of Cards to name a few – Netflix is producing so much great stuff – you'll never get time to squeeze it all in between your baby's bedtime and yours. Nevermind, you can always download it and watch it on your commute.
A well-deserved winner of the Best App for Making Dad's Lives Easier. Take a bow, Netflix, take a bow…